The Ministry of Entertainment was formed by two actors, Kate McNab and Joe Hobbs, to produce theatre based on oral histories from the era of the Second World War. They had met in 1997 during Bristol Old Vic's premier run of Up the Feeder, Down the Mouth which was directed by Andy Hay and written by A.C.H. Smith about Bristol Docks from the stories of the dockers themselves. During the run Joe and Kate persuaded fellow performer Kit Morgan to be musical director for their new venture.
Radio Bristol ran a series of programmes following the progress of the planned first production Keep Smiling Through and many phoned in volunteering their stories and family anecdotes. Joe and Kate set about interviewing housewives, wardens, factory workers, G.I.s and those who were children at the time. 'The Ministry' wanted to reach as many who remembered the days of the Home Front as possible and so touring over three years was widespread over the West of England in a variety of venues, from theatres to village halls and back again to Bristol Old Vic where it sold out in 2002.
By this time Joe Hobbs had been replaced by Ross Harvey who had played Kate's husband in Up The Feeder and it was time to collect more stories for the second planned production Doodlebugs and Bogeymen which was eventually written by Joe Hobbs and which Kate and Ross started touring in September 2002 with Kit Morgan remaining part of the team.
As one theatregoer put it "If it's The Ministry of Entertainment you know it will be excellent theatre, great humour and lovely music".
MEET THE TEAM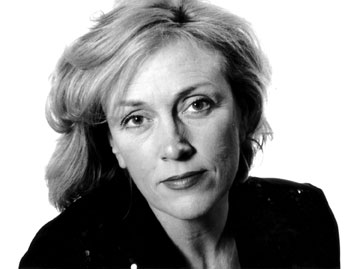 Kate McNab
Kate began her career singing with jazz harmony group Sweet Substitute, touring such shows as Hooray For Hollywood, Stardust Road (with Georgie Fame) and, more recently, as soloist in Fabulous Fats Waller and Basin Street to Broadway with Keith Smith. Now a regular with Bristol Old Vic, Kate played Gwen in Up The Feeder – Down the Mouth, Spot in the 2001 dockside version, Mrs. Fezziwig in A Christmas Carol and Lily in Myrtle on the Mainline. For Crisp Theatre she played Bet in Godber's April in Paris and, for Show of Strength, Avril in Peter Nichols' own production, Nicholodeon. Kate's voice has been described by The Independent as having 'outstanding power'.

Ross Harvey
Ross Harvey trained as an actor at the Bristol Old Vic Theatre School. His work includes seasons with The Royal Shakespeare Company, Haymarket, Basingstoke and several major productions for the Bristol Old Vic.
Ross extensively tours with the highly popular theatre company, Ministry Of Entertainment. As well as several radio drama productions for the BBC, he has voiced many an ad for commercial radio and corporate videos. He has appeared in several television productions including A Taste of Your Own Medicine, Down To Earth, Magic Grandad, Patrick's Planet and The Giblet Boys. He also works extensively as a corporate actor both in the UK and internationally.
Kit Morgan
We've been amazingly lucky to secure MD Kit Morgan as the musical arranger for all five MOE shows. A hugely versatile guitarist, he has toured the world with the likes of Billy J. Kramer, Wall Street Crash, Vanessa Mae and, of late, Ian Anderson (Jethro Tull). As a musician he has done many seasons for Bristol Old Vic and regularly writes and records for international magazine Total Guitar. Kit also composes for television and film soundtracks and even produces his own relaxation CDs!

Joe Hobbs
Joe Sadly died suddenly on Boxing Day 2013.

Joe Hobbs was born in Bristol and was raised on family wartime stories. After completing Theatre Studies in Bath, he joined the Natural Theatre Company with whom he toured for seven years. After writing a one-man version of Treasure Island, he wrote The Three Musketeers, which won a London Fringe award. Returning to Bristol he appeared in the Bristol Old Vic premiere of Up the Feeder, Down the Mouth where he met Kate and Ross, and has since appeared in A Christmas Carol and Up & Under.

REVIEWS
The Ministry Of Entertainment's Mrs Gerrish's Guesthouse, returns after a successful run in June.
"It's always great to have the Ministry Of Entertainment at the Factory; it just brings in an audience that I think are pretty under-served in the theatre world," Dan says.
"Everybody assumes that getting an older audience is an easy option and is trying to appeal to a young audience. That's the Arts Council's emphasis, and it's absolutely right, but at the same time there's a huge audience that often gets ignored – and that's people over 50."
"Ministry Of Entertainment have been championing that cause as well as working with young people, and served that audience well. It's great having them in the theatre and it's great when our local audience comes, because they're not the sort of audience that will necessarily come and see dance or experimental work."
Dan Danson
Artistic Director
Tobacco Factory
Bristol Evening Post 14th September 2006
---
'I find it difficult to book productions that are affordable, accessible, relevant to people's lives, with good production values and which offer an opportunity to see good actors working with a quality script. In Ministry of Entertainment we have found all of those and had a thoroughly enjoyable show. I feel that Doodlebugs and Bogeymen would work well in any of the small/middlescale venues and would be happy to recommend it'
Liz Leyshon, Artistic Director, Strode Theatre
---
THE STAGE
Bristol Old Vic February 2003
Doodlebugs and Bogeymen
....built around the experiences of two young evacuees on a West Country farm.
Their first show, Keep Smiling Through, has been touring the region for three years now and writer/director Joe Hobbs and his cast have again researched real people's wartime recollections to bring the simple tale of two typical evacuees to hilarious and occasionally moving life. This time, though, there is a stronger storyline, as we follow a brother and sister's escape from the London Blitz to discover rural life for the first time.
There is the added bonus of Harvey and McNab playing the wide-eyed evacuees themselves, Blood-Brothers-style, as well as a wonderful parade of countryside characters, from the prickly schoolmarm to the salt of the earth farmers who open their home and their hearts to the youngsters.
All this is wrapped in some splendid set piece scenes, highlighted by Harvey's hilariously incompetent village variety show ventriloquist act, with Hitler as his goose-stepping dummy and McNab's vocal recall of such wartime favourites as A Nightlingale Sang in Berkeley Square, Farmyard hazards, landgirls, daytrips to the seaside and a country vicar add to the humour.
Jeremy Brien
---
To book Ministry of Entertainment,
please use the contact details below.