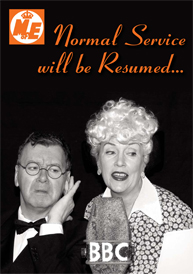 Written by Mike Akers,
Performed by Kate McNab
and Ross Harvey

Normal Service will be Resumed…
It's 1962 and things are not looking good. Kennedy and Khruschev are about to collide over Cuba, but the real trouble is brewing thousands of miles away, deep below the surface of Bristol.
In a top-secret location, Skippy Catford, the ninny in the pinnie, cheerily mops away twenty years' worth of dust and grime from the BBC's emergency wartime studio. She hums the latest Brenda Lee whilst daydreaming about Stanton Drew, everybody's favourite velvet-voiced radio celebrity.
When the Cold War suddenly heats up Stanton and Skippy are trapped underground with nothing but a pair of coconut shells and a swanee whistle to keep themselves amused. A whole bag of spanners drops into the world of 'Auntie' and Listen With Mother will never be the same again.