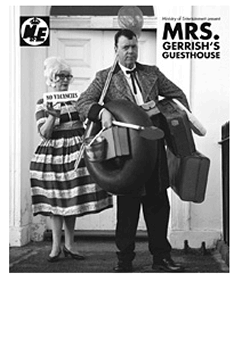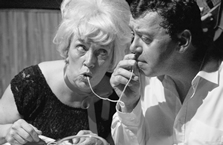 "Hugely appreciated by a capacity audience."
The Stage
"A really enjoyable and absorbing evening's entertainment."
BBC website review
Mrs. Gerrish's Guesthouse
Mrs. Brenda Gerrish streaks into the stratosphere of 50s' sophistication in the first play of the trilogy set in her seaside B&B!
It is 1958 and the summer season at Weston-Super-Mare is drawing to a close and, although the charabangs have returned most of the lobster-red holidaymakers back to their Midland homes, Mrs. Gerrish's Guesthouse is still full and displaying the 'No Vacancies' sign.
Apart from the residential guests like 97-year-old Mrs. Gimlet, whose relatives were rumoured to have caused the great potato famine of 1845, the short-term visitors to Mrs. Gerrish's Guest House include the suave and debonair Mr. Thomas Terry, the intrepid Hurley family from West Bromich who arrive shoe-horned into their motor cycle combination and the Great Mephysto, star of the Winter Gardens 'Summertime Jamboree'.